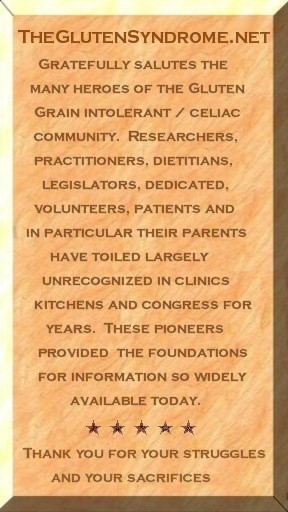 Heroes' Gallery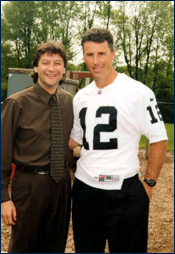 Dr. Alessio Fasano, M.D.
Dr. Fasano (left) with former all-pro NFL quarterback Rich Gannon, a national spokesman for celiac research
Dr. Fasano, formerly of Naples, Italy brought greater awareness of celiac disease to the United States. When he arrived here he asked,
"Where have
all the American celiacs gone?"
(Picture credit, courtesy of University of Maryland Medical News Nov 13, 2002)
For the latest version of each page on this website click "refresh" on your browser tool bar. Last updated March 14, 2009
TheGlutenSyndrome.net Introduction
Gluten Reactivity definition on this website :
"Any adverse reaction(s) to gluten grains"
Gluten Syndrome patients quickly learn that this underlying condition follows different rules than other health challenges. Be prepared to study, read and work, and it's OK to feel overwhelmed at first. Relax! Plenty of support, friends and good food are available. You'll be a pro in no time.
This website compares and explains various viewpoints of gluten grain intolerance, testing and gluten challenges. The site outline and "About this site" below provide a crucial overview for new site visitors.

Caution! Specialists advise patients to eat gluten until they complete testing. Some tests do not work after gluten is removed from the diet.
Site Outline

A. About this website, its purpose and focus.

1. Why another website? (First time visitors, please read this section)


2. How to use this site.

B. The basics of The Gluten Syndrome, Celiac Disease, and Gluten Challenges intended for diagnosis.


1. Gluten Grain Reactivity and celiac disease

2. Gluten challenges, the motivators and the risks.
C. The Gluten Syndrome Research Checklist

These topics and strategies all played a part in helping our family investigate our gluten grain related situation. We hope they are as useful for you as they were for us. Suggestions are welcome.

A. Pray for guidance.


B. Understand the medical research and validation process

C. Learn gluten grain intolerance and also celiac disease. Listen to "Stories to Help Us Understand" on the Testing page of this site.
D. For vital decision making perspective, review the history of gluten intolerance and other relevant research.

E. Check other conditions, other intolerances and their cross reactions, and similar diets and strategies. (More in progress on cross reactions).

F. Learn the startling differences in basic diet components between isolated (traditional) cultures compared to modern diets.

G. Network with the gluten intolerant community long enough to assess actual trends.

H. Research your family's symptoms and health history. Bring the history and symptoms list with you when you see your practitioner.

I. Find knowledgeable medical professionals willing to listen to your situation, learn as necessary, and who can guide you further.




D. Other sections of this site include:


The History section provides a very important overview of the progress and hindrances of research in the study of health as it relates to food and digestion. This section is vital for individual decision making perspective.

The Circle Diagram - an overview of gluten grain intolerances.

The Gluten Grain Sensitivities Primer - A referenced teaching aid

The 7 Medical Viewpoints Chart - compares medical viewpoints.



The Personal Experiences Section - details patients' experiences.

The Communications Section is for patients and professionals alike.

The Research Section - contains research abstracts and articles.

The Services and Vendors Section links to support groups, vendors and professionals.



E. Our future plans include:


1. A heroes' gallery - contributors to today's knowledge

2. Foods - alternative grains substitutions, preparation of nutrient dense food


3. Professional Podium - Dr. contributions, all viewpoints

4. Medical theories - relevant medical hypotheses

5. Gluten challenge alternatives - other tests and options

6. More ideas?

7. The Three Crosses - Hope for today, the Creator's "final answer".

Continue to the Expanded Version of the 4 Crucial Points listed on the Home page.


Contact us at info@glutensensitivity.net